Data Saturday #14 – Oslo 2021 – Introduction into Azure Arc Data Services
This post might contain affiliate links. We may earn a commission if you click and make a purchase. Your support is appreciated!
Today the time had come – I was finally able to speak at Data Saturday (formerly SQLSaturday) in Oslo … that was finally not due to the organizers but rather to me or the pandemic, since I hadn't dared to give lectures until 2020 Keeping English, I hadn't submitted any sessions for Oslo either. I would have loved to have been there, of course, because Norway and Oslo are beautiful; I now also know several community members in the region that I haven't seen for a long time. Still, this year it had to stay virtual for the time being, maybe yes, in person again next year.
But now to my lecture on the introduction to Azure Arc or Azure Arc Data Services, which was on Saturday, September 4th, 2021, at 9:45 am. Azure Arc itself is, first of all, a platform, a service that Microsoft provides in Azure to manage and administer the administration of various environments – hardware, virtual machines, Windows, Linux, AWS, GCP, or whatever – in a central location.
Introduction into Azure Arc
This means that you can now, for example, connect your on-premise Windows or Linux servers to the Azure portal to administer them from there. Or from the multitude of services from the cloud, such as security or compliance, these benefits come with Azure Arc, in which you can integrate your on-premise systems into the analyzes of these Azure services. In addition, automation such as patching or backups can be created and administered from the Azure portal or other Azure services, which means a significant advantage in the standardization of systems and processes.
And not only with on-premise servers or systems, but also with multi-cloud and "disconnected" systems, including Kubernetes clusters or SQL servers
Azure Arc-enabled servers
Azure Arc-enabled Kubernetes
SQL Server auf Azure Arc-enabled Servers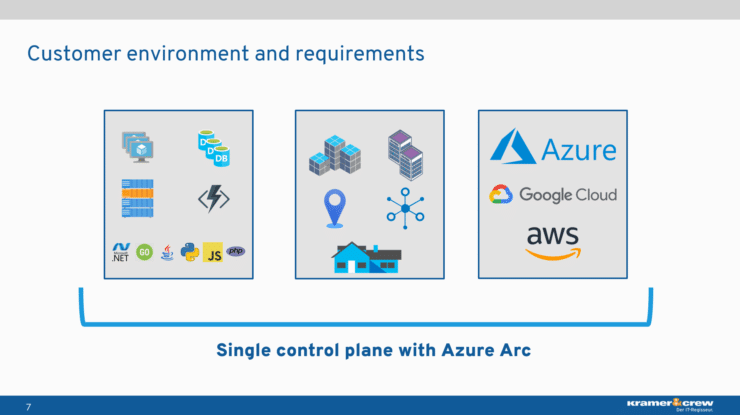 Azure Arc Data Services
Azure Arc Data Services is understood to mean the possibility of running an Azure SQL Managed Instance or a Postgres Hyperscale on "any" Kubernetes cluster; whether this Kubernetes cluster is in your own data center or another cloud does not matter. The main thing is it has to be a CNCF-certified Kubernetes cluster.
However, to operate a managed instance in your own data center, you have to follow several steps … on the one hand, you should turn the Kubernetes cluster into an Azure Arc enabled Kubernetes; on the other hand, you have to have a "connector/agent" on this cluster roll out the data controller. This data controller establishes the interface between Azure, the Azure portal, and the SQL Managed Instance. Now you can deploy and use a fully functional SQL Managed Instance on this cluster in various ways – Azure Portal, Azure CLI, or Azure Data Studio.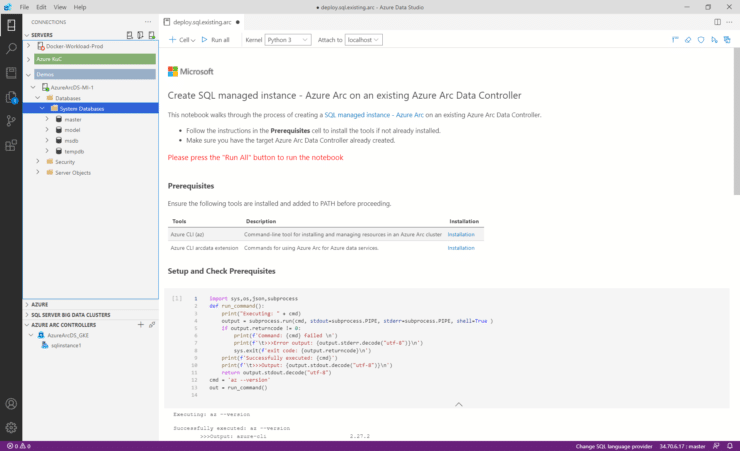 From a personal point of view, it is a great story to have a central point of contact for all services and applications used and thus to use the additional (security-enhancing) features from Azure on all systems. All in all, an improvement for the company!
My slides and further links
DataSaturday-Oslo-2021-Azure-Arc-Data-Services.pdf
If you want to try out this possibility of the rollout of Azure Data Services yourself, then I can only recommend everyone to deal with Microsoft's Jumpstart scenarios; here, prefabricated environments are rolled out with which you can then easily test what works how where:
https://azurearcjumpstart.io/overview/
All that remains to say is THANK YOU to all listeners and the organizers; it was a great pleasure and a lot of fun. #CommunityRocks
This post might contain affiliate links. We may earn a commission if you click and make a purchase. Your support is appreciated!

Björn continues to work from Mexico as a Senior Consultant – Microsoft Data Platform and Cloud for Kramer&Crew in Cologne. He also remains loyal to the community from his new home, he is involved in Data Saturdays or in various forums. Besides the topics around SQL Server, Powershell and Azure SQL, he is interested in science fiction, baking 😉 and cycling.
Amazon.com Empfehlungen
Damit ich auch meine Kosten für den Blog ein wenig senken kann, verwende ich auf diese Seite das Amazon.com Affiliate Programm, so bekomme ich - falls ihr ein Produkt über meinen Link kauft, eine kleine Provision (ohne zusätzliche Kosten für euch!).