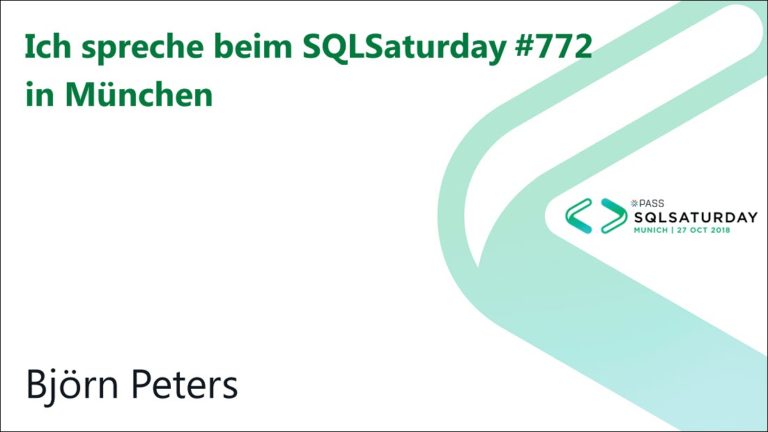 Am kommenden Freitag, den 26. Oktober 2018 ist es endlich wieder einmal so weit… es gibt einen weiteren SQLSaturday in München!!!
In 2017 gab es leider keinen SQLSaturday in München, da sich aufgrund privater Umorientierungen kein Organisations-Team gefunden hat… auch dieses Jahr wurde es schwierig, aber man hat es in einer starken Gemeinschaftsleistung geschafft => Community eben 😉
Somit trifft sich die deutsche (und umliegende) PASS-Community am nächsten Wochenende (26.+27.10.2018) bei Microsoft in München, um sich mal wieder einen ganzen Tag über die aktuellsten Themen rund um die Microsoft Data-Plattform zu unterhalten. Eine Vielzahl an spannenden Themen von erfahrenen Sprechern mit viel Know-How informieren euch über Vereinfachung der DBA-Tätigkeiten mit Powershell, Power BI Deployment Strategien, ganz viel Azure SQL Database (im Allgemeinen, als Managed Instance und über die Migration) und nicht zu vergessen, dass unvergessliche NerdyCorn-Quiz von Ben Weissman!
Informiert euch auf der Event-Seite über den ganzen Zeitplan, wann es welche Session von welchem Sprecher in welchem Raum gibt => SQLSaturday #772 München 2018 Schedule
Ich hoffe wir werden uns dort sehen !!!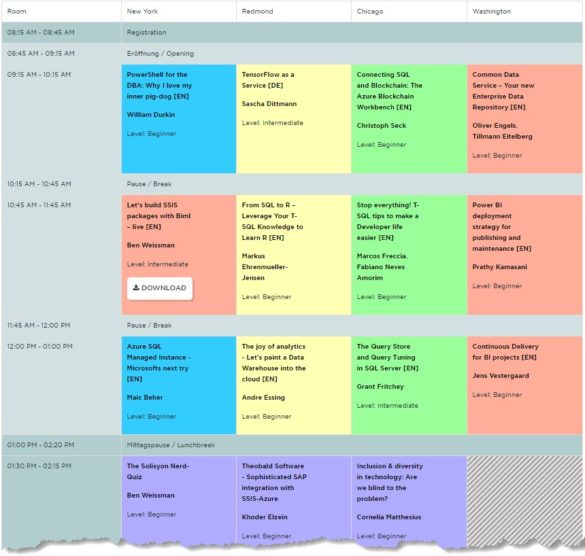 Allgemeines zum SQLSaturday
Ich war einfach frech und habe die englische Beschreibung von der Event-Seite kopiert 😉
SQLSaturday is a free 1-day training event for Microsoft Data Platform, SQL Server professionals and those wanting to learn about SQL Server and the Microsoft Data Platform. Admittance to this event is free, all costs are covered by donations and sponsorship. Please register soon as seating is limited, and let friends and colleagues know about the event!
Also, we offer 4 pre-conference workshops on the day before the main conference. So, if one day of training isn't enough, join SQL Server Experts and MVPs for full-day workshop on October 26th, 2018.
Hotel Recommendations
Our hotel recommendation for the SQL Saturday is the INNSIDE München Parkstadt Schwabing, Mies-van-der-Rohe Straße 10, 80807 Munich, Germany. The hotel is just around the corner and just a few steps away from the Microsoft Office.
Alternative hotels in the same neighborhood are:
Björn arbeitet in Hamburg als Senior Consultant – Microsoft Data Platform und Cloud bei Kramer&Crew. Er nimmt regelmäßig an den PASS Regionalgruppen Treffen in Hamburg, den Veranstaltungen der PASS wie SQLSaturday und DataGrillen teil und organisiert in Hamburg das Azure Meetup. Er interessiert sich neben den Themen rund um den SQL Server, Powershell und Azure für Science-Fiction, Snowboarden, Backen 😉 und Radfahren.