For T-SQL Tuesday #80, Chris Yates (b|t) asks "Is there something you've been wanting to do for a long time in SQL, but haven't done it yet?".
Yes, of cause 😉
There are some many topics I want to learn, to talk and to present about in the (near) future. Just to give you a quick look onto my open point list (see blog post picture) for SQL server topics to learn and write about.
SQL Server 2016 is a really awesome kind of software which includes so much new and very exciting topics which I want to get in touch with… ok, not all my open points are new in SQL server 2016 but very interesting and from earlier versions but I wanna learn them and then share my new knowledge with my colleagues.
SQL Server 2014 / 2016 – ColumnStore
SQL Server 2016 – Encrypted / Always Encrypted
SQL Server 2016 – Temporal Tables
SQL Server 2016 – Analytics with R
Or just the new tools around SQL Server like Power BI (Desktop).
Actually, I'm working on my Azure skills … it's awful… just finished an MVA-course which opened several new topics I had to read about and get deeper into it.
Last month I had visited SQLSaturday Rheinland #525 and learn from Andre Kamann (b|t) new stuff about Desired State Configuration (DSC) that was also very very interesting and might be helpful for my daily business… So you can see (read) I'll need more than 24h a day 😉
Also, Andreas Wolter spoke about a topic which could help me in future at my job => the new SQL Server 2016 QueryStore…
So who can tell me where to start with all those hot things? How to start with all this?
Finally, I would like to thank the community that all always share their knowledge and new information with us.
THANK YOU !!!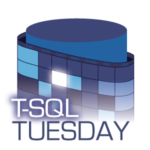 PS: It is the birthday of our actual Host Chris Yates… Happy Birthday to you, I wish you all the best.
Björn continues to work from Mexico as a Senior Consultant – Microsoft Data Platform and Cloud for Kramer&Crew in Cologne. He also remains loyal to the community from his new home, he is involved in Data Saturdays or in various forums. Besides the topics around SQL Server, Powershell and Azure SQL, he is interested in science fiction, baking 😉 and cycling.